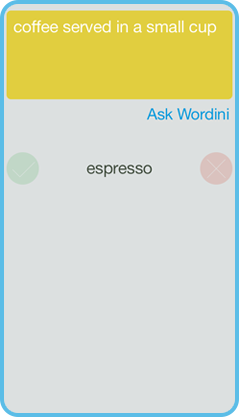 Ask for words by describing them in plain English
Get synonyms and antonyms for words (see the in-app Help section for more information)
View definitions for accepted answers
Ask and receive answers on your Apple Watch
Universal build for iPhone and iPad
A new kind of search tool
Ever had a moment where your life is going along great and you're about to use this really apropos word, but you can't quite remember it? It's on the tip of your tongue, but it's just out of reach, trapped somewhere in the ice floes of your mind.
It's ok, we've all had them. But Wordini has you covered, like a digital Cyrano de Bergerac, whispering answers in your inarticulate times of need. You can think of it like a reverse dictionary: give it a phrase or definition that describes the word and Wordini will work its magic. And speaking of magic, now you can get answers from Wordini on your Apple Watch simply by speaking a phrase or question.
Just type in a phrase that describes the word you're trying to think of – such as "biggest animal in ocean" for "whale" – and Wordini will work its magic. You can also just tap the microphone icon on the keyboard and speak your question (on devices that support dictation).
While the first word Wordini shows will often be what you were trying to think of, Wordini will present several other options that might also fit. Wordini is always learning and will continue improving over time. Please note: Wordini requires an internet connection to return results.
© 2018 Poet & Mountain, LLC. All rights reserved.
iPhone, iPad, and Apple Watch are trademarks of Apple Inc., registered in the U.S. and other countries.
App Store is a service mark of Apple Inc.